Hey Everyone! Happy 4th of July! I hope everyone has a safe holiday. I have just spent about an hour trying to get some photos I took with my brother's fancy pants camera to upload to photobucket. I don't know what is going on but they are too large I guess and photobucket rejects them. I tried compressing, resizing, bribing and threatening but nothing works. SO there are no furbaby pictures for you today. I will have to figure out what is going on when he gets here.
I do have a festive mani to show you though! I had an idea in my head of what I wanted to do. This is NOT it! I tried four or five different manis. I tried sponging, gradient, water marble and finally just decided on this one after all others ended in disaster.
I used Zoya Trixie, Sinful Colors Sugar Sugar and China Glaze Ride the Waves.
I also used Bundle Monster plate BM20.
For some reason I got these photos uploaded NO PROBLEMO. I just realized that, not all of them but some of them were taken with the fancy pants camera, very odd.
I also used some square rhinestones I got off of the Ebay.
It looks very Dr. Seuss like to me.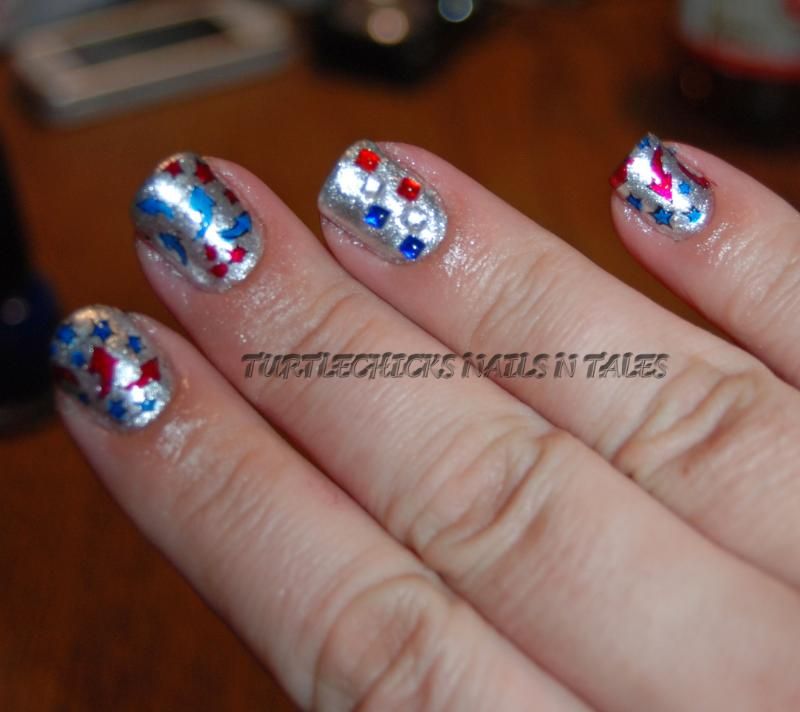 My fingers are super shiny because I had just put cuticle oil on them.
I used two coats of Zoya Trixie as the base. It is probably my favorite silver polish.
I then stamped the image using my black striping polish by Sinful Colors. I find the striping polishes stamp very well.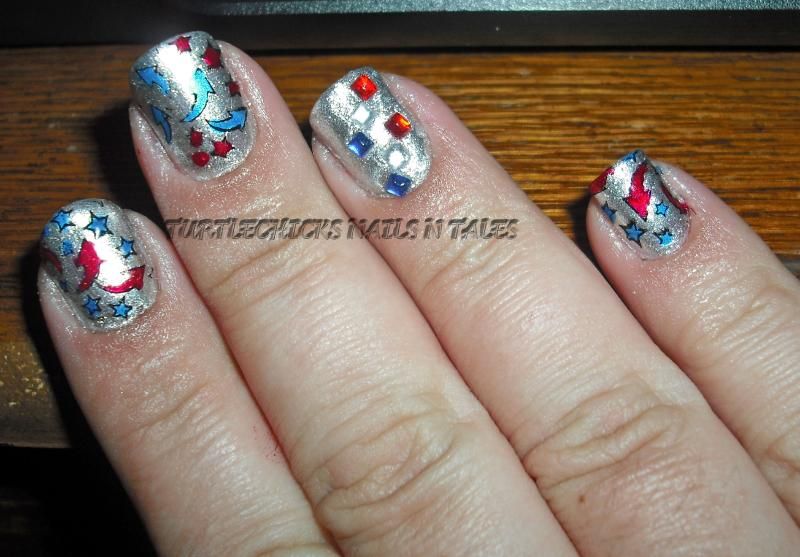 I used a dotting tool to color in the stars and rockets. I am not sure if those are supposed to be arrows or rockets but for July 4th we will just say they are rockets.
The rhinestones were a bit of a pain. I used tweezers. I struggled with them too. I ended up totally trashing one of the nails so I just put another coat of Trixie on there and stuck the rhinestones to that. I went to the grocery store, Target, ate lunch and made an apple pie crumble and haven't lost a stone yet.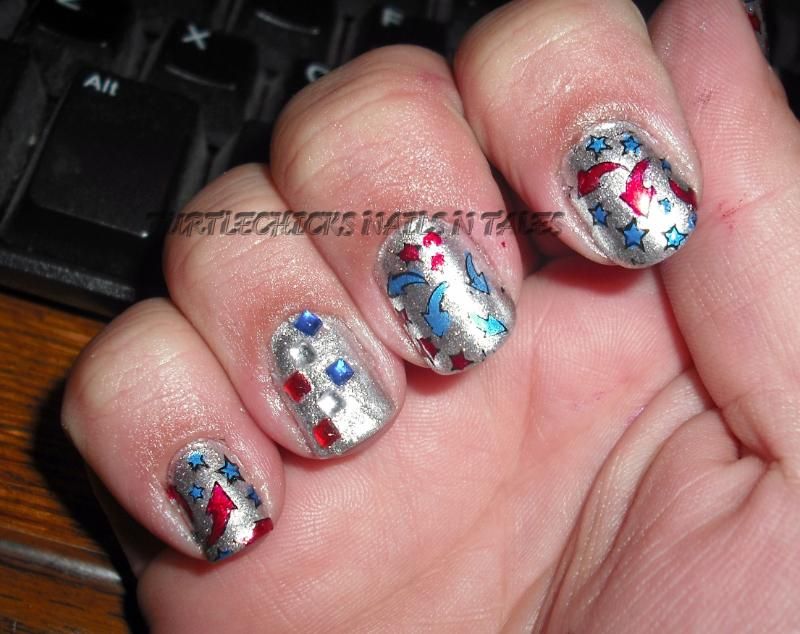 I was so flustered after my failures I wasn't thrilled with this mani however it has since grown on me and I really like it. I will keep it on for an extra day or two because I like it so much. We will see, once the stones start popping off I will redo it.
Now I am off to make some cookies with the kids. Hope your day is great!
That's all for now :)