Hey Everyone!! I could use a nap. I am hungry too so I need to figure out what to do for dinner. I finally feel pretty good, enough to work out, but now my Achilles tendon is pretty sore so I need to rest it. I think the workout might do more harm than good. Days like today I really REALLY wish I had a pool! I could definitely swim without stressing the Achilles.
Today I have another awesome creation from
CrowsToes
! Her polishes are now being carried on
Llarowe
so you can get them there.
This one is Absolum - your potions master.
It is so cool and I still LOVE the labels on these bottles.
Ok this was another car mani. I have some clear that wasn't cleaned up but it is better looking than yesterday's orange. This is one coat on all nails.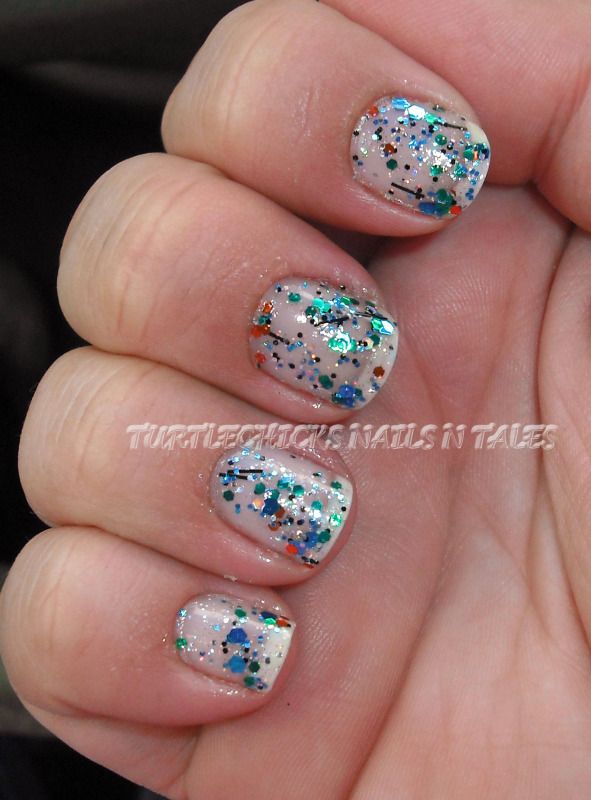 This polish was thick and I don't do well with thick polishes. I was trying to conserve as much as possible so I refused to do two coats. You can see how it is slightly crazy because my pinkie has a lot less glitter than my middle finger.
This is totally blingtastic and I love it! The lack of glitter on my pinkie started to bother me after awhile. It didn't bother me enough to use more of my precious though.
Since I was at work I didn't have thinner or clear to add to it and thin it a bit. I will need to do that soon though. It is so jam packed with glitter a tad of B3F clear will help it flow better. I find that most glitter polishes are so jam packed that they will need thinning and it really isn't a big deal in my book. Especially when a polish looks this cool!
I love the mix of colors and glitters in this polish. I very much wanted to take it off and then redo the mani with an array of different base colors because I was so excited. I didn't and instead just started at my nails a whole lot while wearing it.
That's all for now :)