Hey Everyone! I think I need to get a new camera, mine is acting up again. It could be because Bruce threw it off the table the other night and it landed and slid across the tile floor. It is also old. I think it is time to seriously look for a new one. I finally got a chance to get on the computer so this is late but at least I can post it.
Today I have the first of the 7 CrowsToes Halloween collection. I LOVE THESE POLISHES!
I want to address this situation before even getting into the polish pictures though. This doesn't pertain to just this brand but all Indie brands and it just so happens that I haven't posted an Indie polish in a bit so I am writing it here. Indie polish brands are often complained about and the creators receive a lot of unnecessary backlash and rude behavior from customers over the consistency of their polishes. When these awesome artists create these polishes they use a TON of glitter and a base that can support the glitter and leave it suspended so the polish tends to be a little on the thick side. As a person who enjoys working with thinner polishes I go into every Indie purchase knowing that the polish may be on the thicker side. A little bit of polish thinner OR clear (not WnW clear though) polish will help thin it out if you, like me, like polish to be on the thin side. These creators are making these polishes by hand with a TON of glitter and must use a thicker base to keep the glitter suspended. If the polish it too thick for your liking you can simply add thinner or clear polish to get it to the consistency you want. In the past I have used thinner in some Indies because I wanted them to be thinner IN THE VERY SAME WAY that I have used thinner in some of my brand new Finger Paints, OPI and various other name brand polishes because when I bought them they were thicker than I liked. I have heard of so many people talk negatively and be down right rude over this issue when it comes to Indie polishes and it is really uncalled for. I don't want to stand on my soap box all night but I just wanted to touch on that subject real quick because these ladies take a lot of heat and criticism and sometimes publicly and viciously because they have a face and they are available to their fans and customers where as Suzi is tucked away in some office not being attacked by people if one of her polishes is not to the liking of the general public. If it is between my polish being a little on the thick side or having all the pretty glitter sinking to the bottom of the bottle I would much rather have the polish on the thick side.
Ok, sorry about that, now to happy pretty sparkly fun.
Hell Hath No Fury. I love that label so much.
This polish is jam packed with tons of glitter in various sizes. It has orange, red and iridescent glitter packed in there. I love seeing the iridescent glitter that flashes it's purple at you.
This is one coat of Hell Hath No Fury over China Glaze Harvest Moon which I showed you earlier.
Now, with these polishes I apply them in sort of a dab, pull, arrange method. I didn't thin this polish because it really wasn't so thick that I needed to but there is a lot of glitter in there. I sort of set a drop on my nail then pull it around or dab the glitter where I want it and arrange it if I have missed a spot.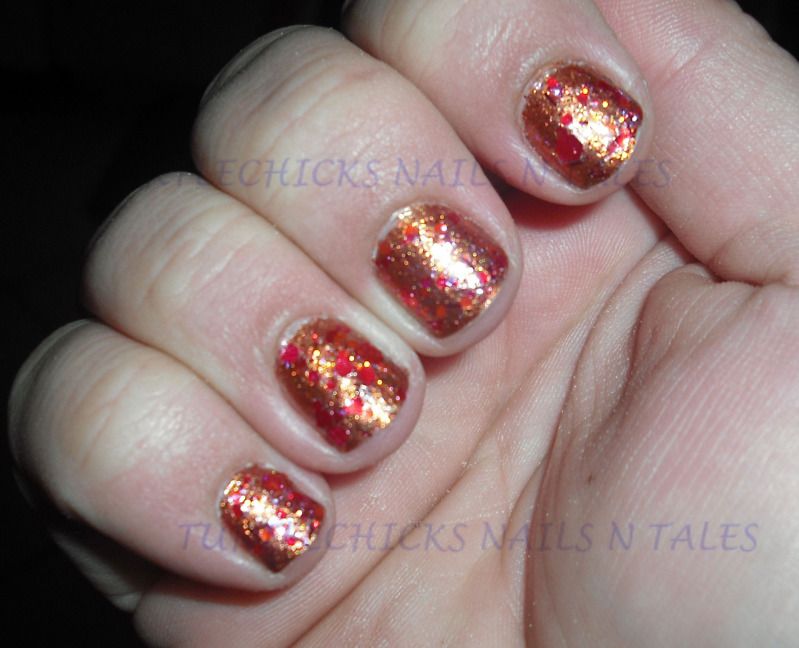 I also tap the edge of my nail with my finger to make sure the glitter has slid back from the free edge. I do this to keep the glitter from hanging out and getting caught on stuff or being scratchy.
Application was great and this polish is so awesome. I like it a lot over the orange though I think that I had envisioned it with China Glaze Riveting when I was thinking of putting it over an orange.
I had a little tip wear and chipping because I didn't take the pictures right away so please excuse that. Hopefully I can get my nails to grow out soon and reswatch these polishes later on and take better pictures. My one index finger in particular is quite weak and uncooperative. I have also been experimenting with using a peel off base for glitters so I am testing that out.
That's all for now :)