Hey Everyone!! Is it Friday yet? I was thinking of taking today off however we have an out of town customer that needs to pick up a product and I didn't want to not be here for them. I hate work guilt. I am pretty tired and have a slight headache and work is slow. I want a nap!
Today I have a new technique I tried on my China Glaze Kalahari Kiss mani. I don't know where the Saran Wrap mani first came from but I had seen it on a nail forum and thought it looked awesome. I know I have seen manis posted using this method recently but I got most of my information from the forum so I don't have any links for you. Basically with this mani you use Saran Wrap or Cling Wrap or stupid plastic wrap that gets stuck on itself and always gives me a problem (there are many names for it) to dab polish on or off your nails to create a textured look. When I did this mani I used my already dry Kalahari Kiss mani and Essie Navigate Her.
I didn't take pictures of the actual technique because I wasn't sure how it was going to come out but I will be doing it again because I loved it. The pictures aren't great because the colors blend so well together.
I used the dab off method where I painted the entire nail with Navigate Her then used a balled up piece of Saran Wrap to dab the polish off the nail.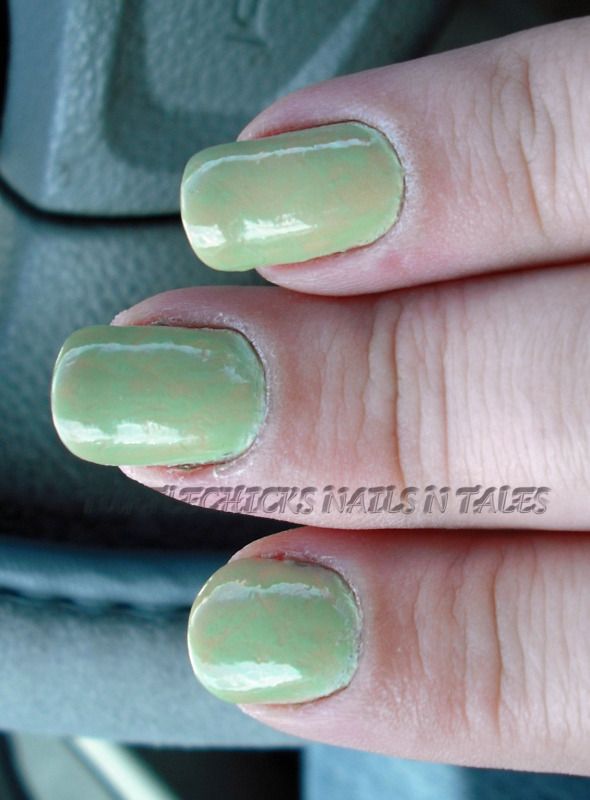 It was quick and easy and gave the polish a great effect. It also gives me something to do with those pieces of Saran wrap that I always cut too small for whatever I actually want to wrap. I always have issues with that stuff, it is so uncooperative and super clingy to itself lol.
I desperately wanted to stamp or do something over this mani. I wore it for a day in preparation for it's next transition but it drove me nuts not being able to stamp over it. I think it would make a great background for stamping. I will definitely be trying this technique again.
That's all for now :)