Hey Everyone!! I have been thinking it was Friday ALL DAY LONG! It wasn't too bad a day other than I was disappointed every time I realized it was only Thursday and I had to go back to work tomorrow. Then there is some stuff going on with df and work which is crazy and on top of that he may have caught something from work that though it is totally treatable without health insurance doctor visits are costly. Plus I am a super freak and I worry about everything so I am quite highly stressed out right now. I am trying to relax and do some crochet while watching football but it isn't helping much. At least tomorrow is FRIDAY!!!!
Today I have more pictures of the gorgeous Candeo Colors Plumage only I shook up the original mani a bit.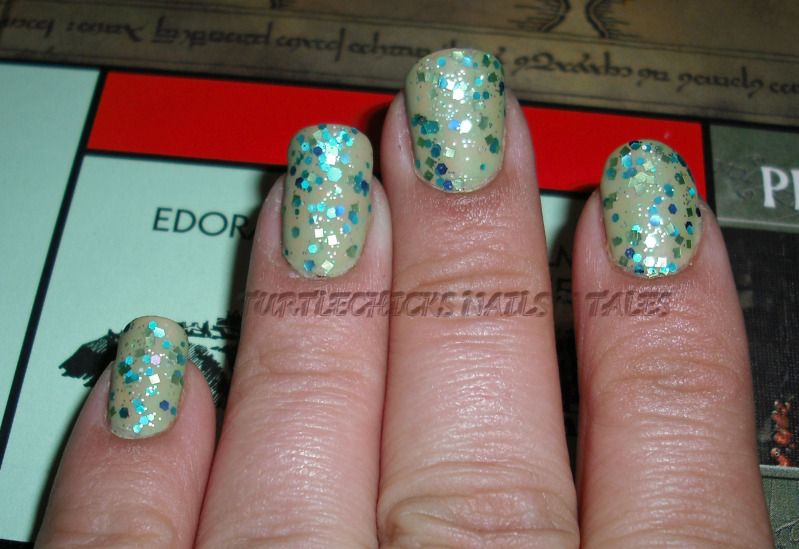 It is hard to tell but I mattified it. I love the pictures of glitter manis that have been mattified so I HAD to try it. It looks really cool in person BUT it is not overly noticeable. This could be because I have the Hard Candy Matte top coat and to me it doesn't seem to mattify things as well as pictures I have seen of people using other brands.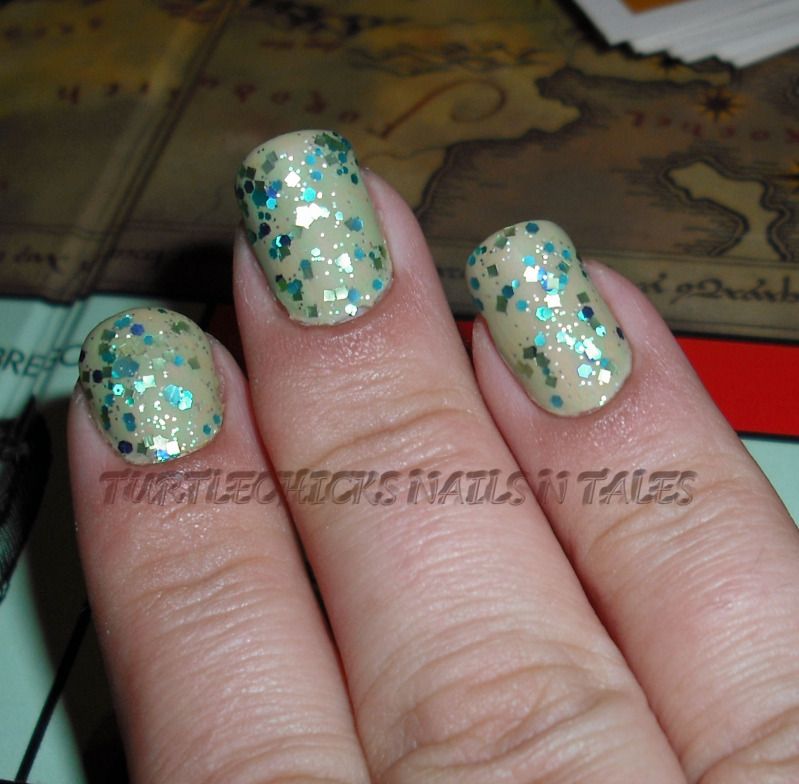 I love the matte look though. It made it kinda cool looking.
THEN I stamped!
Now I let my son pick out the design I was going to stamp from the Cheeky XL-A. He decided I needed to do a different image on each finger and since I couldn't figure out a reason NOT to I went with it.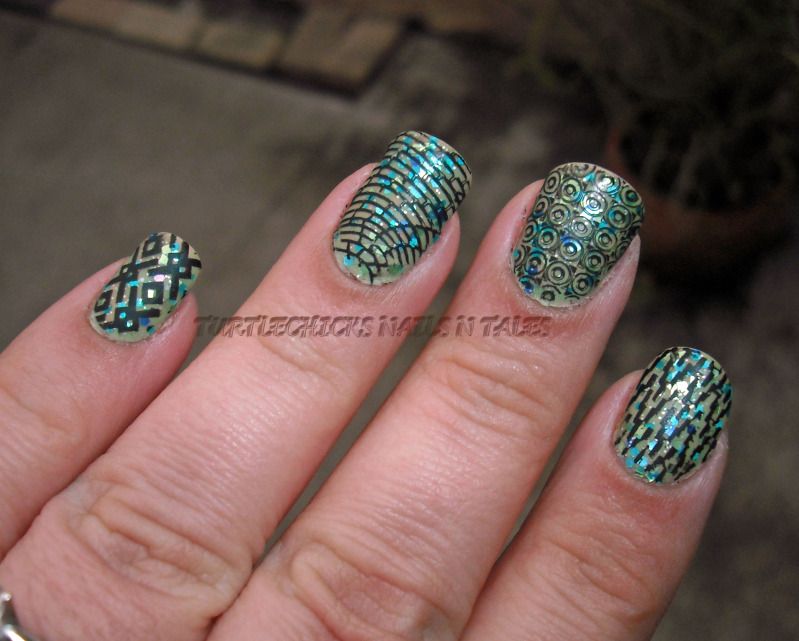 I used Wet N Wild Ebony Hates Chris to stamp with and did not use a top coat so it stayed matte.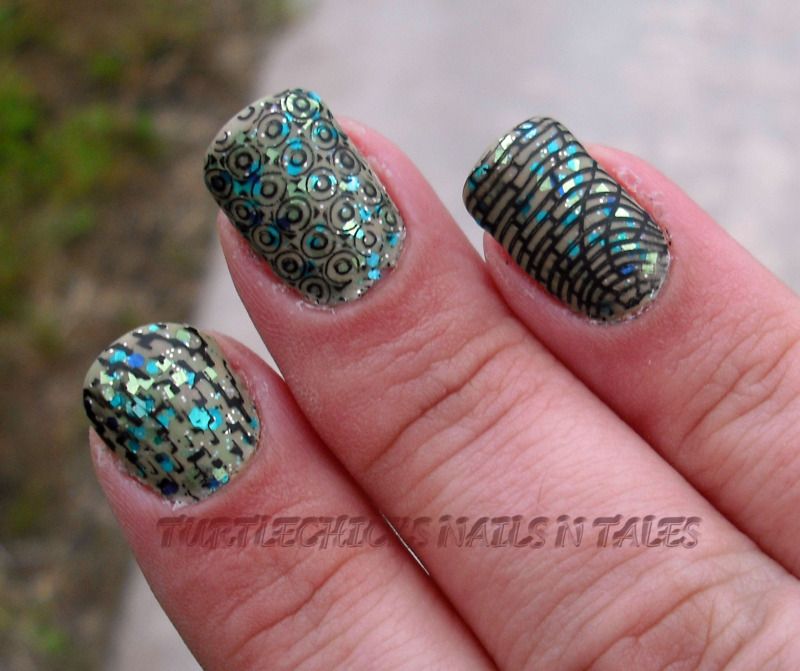 I was using the XL stamper and the plastic scrapers and it wasn't going well so not all of the patterns came out really well.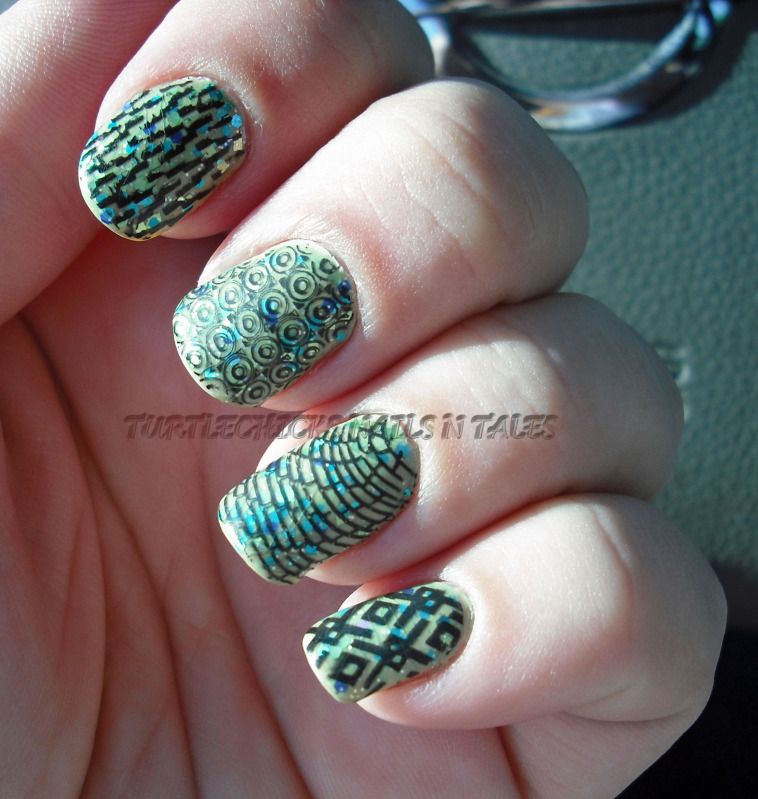 I do love the pinky image and the middle finger image the most. I wasn't really thrilled with the way the image on my index finger came out. It was funny how on one hand the image would come out better than the other hand. I think I eventually gave up and went back to my metal scraper because the plastic one was giving me fits.
It was a fun mani but two of my nails ended up breaking so the fun ended early. I am dying for them to grow back so I can start doing fun manis again. They are making me nuts being so short and my middle nail is peeling again. I need to find a miracle cure for these nails!
That's all for now :)