Hey Everyone!! Happy NFL Opening Day!!! I am so excited. I have my fantasy teams drafted and ready to go and I can't wait for tonight's game. Sadly I will not have any football manis for awhile though. I had intended on posting Monday but photobucket wouldn't cooperate then last night we had a bit of a computer issue with my son needing to do homework, a fantasy football draft going on and a chaotic house.
I am feeling somewhat better so hopefully I am going to be able to not flake out again. I think the photo issues have been fixed but if not please let me know. I fell WAY behind on responding to comments and commenting on your blogs so please forgive me if I didn't answer your comments. I have been reading them and checking out everyone's blogs but just hadn't done much commenting. I know a couple of blogs I can't comment on at work because my Internet browser is not compatible or some nonsense and I can't install Google Chrome. I know for sure Lacquer Buzz is one of them. By the time I get home I have forgotten to go back and comment. I love you all and love hearing from you and commenting on your blogs!!!
Today I have a stamped mani that I did with China Glaze Kalahari Kiss from the Safari Collection. I love this color. It stamped nicely but it was quite subtle.
I used the vines? are they vines? leafy pattern from the top right of Mash plate 50. I love that the full nail design is large enough to cover my nails.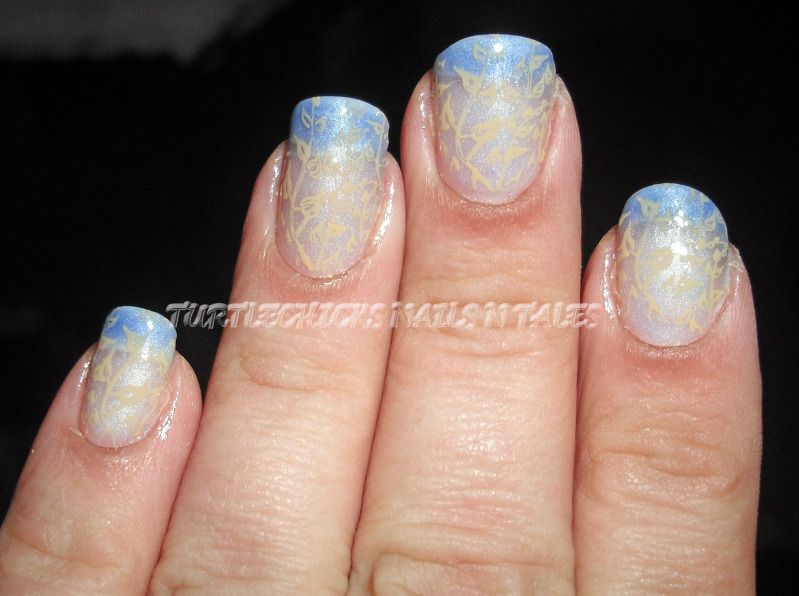 I stamped over my Le Chat Partly Cloudy gel mani and wanted to see what it would look like if the base was darker. First I stuck my tips in the ice so I had a colored tip effect.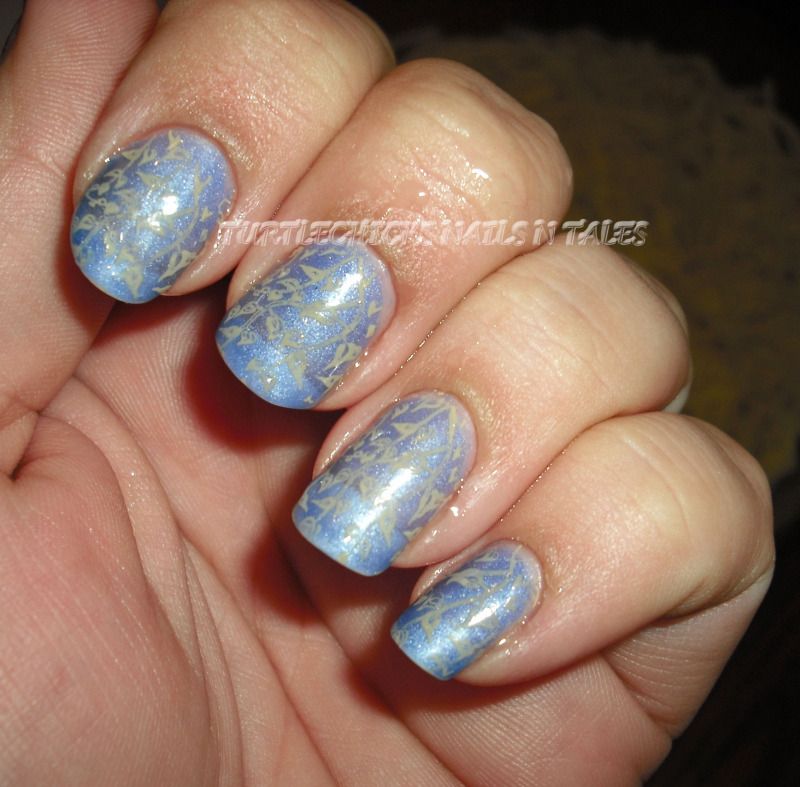 Then I shoved my whole hand in there. I like Kalahari Kiss stamped over darker colors it makes it stand out a lot more.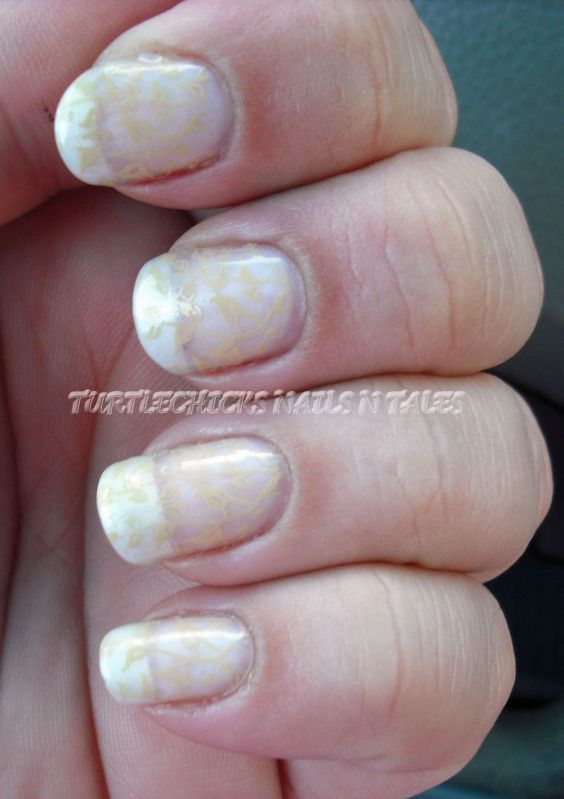 Over the normal looking pale Partly Cloudy the stamping is very subtle. It is pretty and I really enjoyed the delicate subtle look.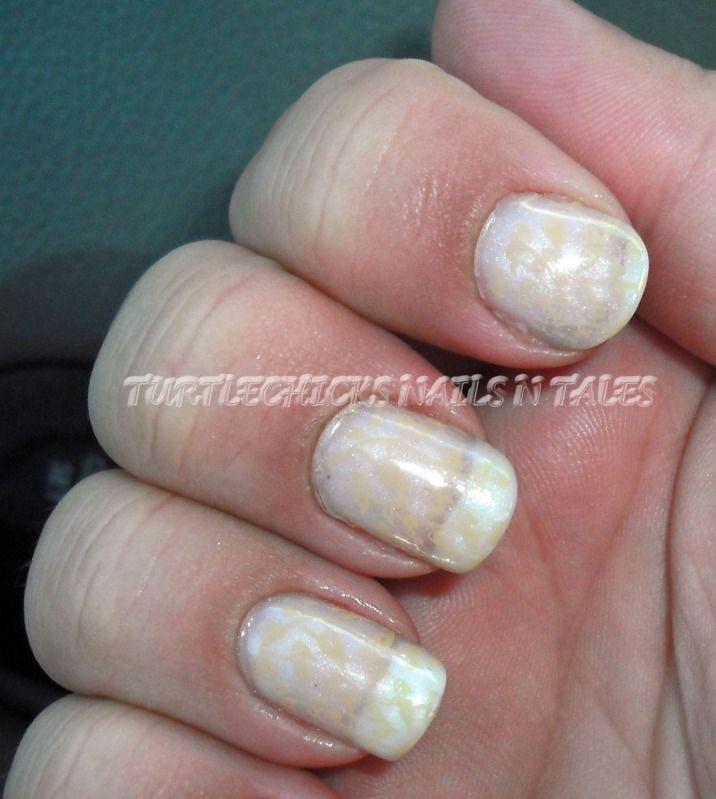 Unfortunately I am not one to stay subtle for too long and after a bit I was longing for something more dramatic. Sticking my hands in ice only worked for so long before I needed to try something brighter.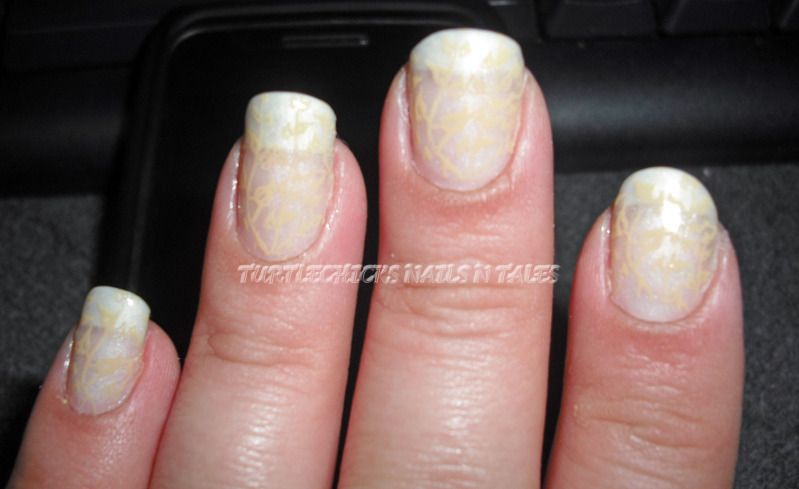 It was a pretty mani and I did catch myself looking at my hands a lot. It also hid my mistakes because it was so subtle so it gets bonus points for that!

That's all for now :)