Hey Everyone!!! I had a fantastic weekend away and have tons of pictures and news for you coming up. The bf got sick yesterday when we were coming home and is in full on cold/fever mode right now so I am going to make this a quick one. Nurse turtle is needed. :)
I don't have too many Maybelline nail polishes but after pulling these out for Autism Awareness April I might need to get more.
I used Maybelline Summer Splash which I had gotten on clearance somewhere and Planet Pluto which I have no idea where or when I got this one. I really really loved the application of Summer Splash.
I used two coats of Summer Splash and it applied very well. Nice and smooth.
I did a slight glitter gradient effect on my ring fingers to give it some sparkle.
It started to rain when I was trying to get some outdoor shots.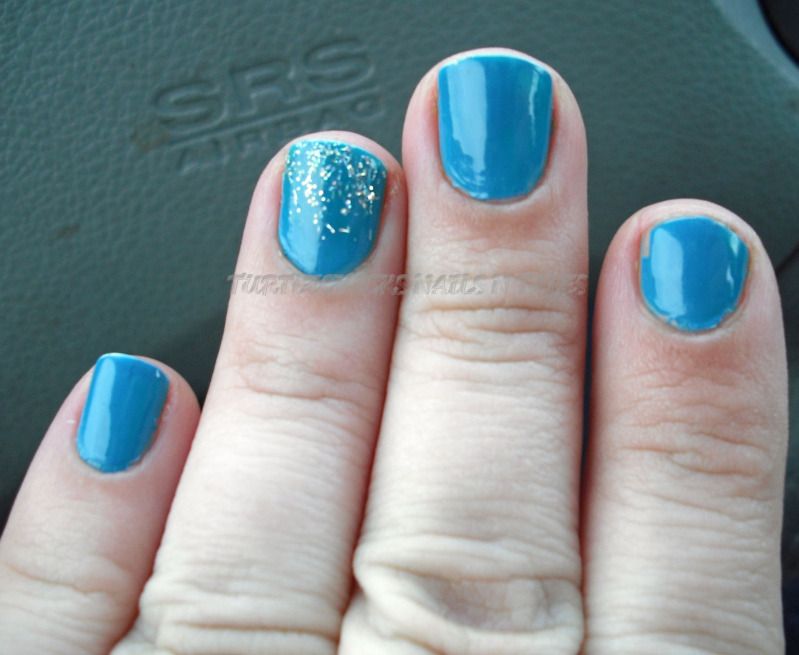 I think Maybelline has jumped back on my radar after a long absence with this polish.
I know it is short but that is all I have for today. I still have some blue manis that I wasn't able to post this April so I will be posting blue for a couple more days.
I actually loved doing a full month of blue manis. I hope that there was more awareness brought out into the world this month regarding Autism. My goes to school with a boy who is Autistic. There are other children with Autism in his school but I have only met Tyler. He helped out the bf when he was coaching the after school basketball team. Tyler was named their Assistant Coach because he wasn't able to play and is an amazing kid. Like everyone he had his days and his moments but he is such a great kid and it was so much fun to watch him and hang out with him. The kids were so great with him and I was so proud of how they handled him and treated him. It was an honor to be able to participate in blue mani month for Autism Awareness.
Thats all for now :)