Hey Everyone!!! I am super happy to say that I felt good today. Then my eye kicked in. It feels like something is in it and drives me crazy. I even bought a little eye wash kit at Walgreens today just to try and wash it out. It feels a bit better since the wash but it is still irritated. I made an appointment for Thursday so if it isn't better then I will get it checked out. It is insane how crazy it is making me.
Today I have my Easter mani for you guys. Yup, I am WAY late. Better late than never though. I used Zoya Maisie from the Spring 2012 Fleck Effect Holographic Top Coat collection. My definition of Holographic is no where near Zoya's definition of Holographic but the flakies sure are pretty. I also used Eyeko Pastel Polish in a sky blue color. I can't find a name on it so I just call it the sky blue Eyeko since it is the only one I own.
I did this mani really quickly in the hour I had between going to the kennel and going to my aunt's house for Easter dinner. You will be able to tell because it isn't the best job possible. I also put the decals on in the car so there is that too.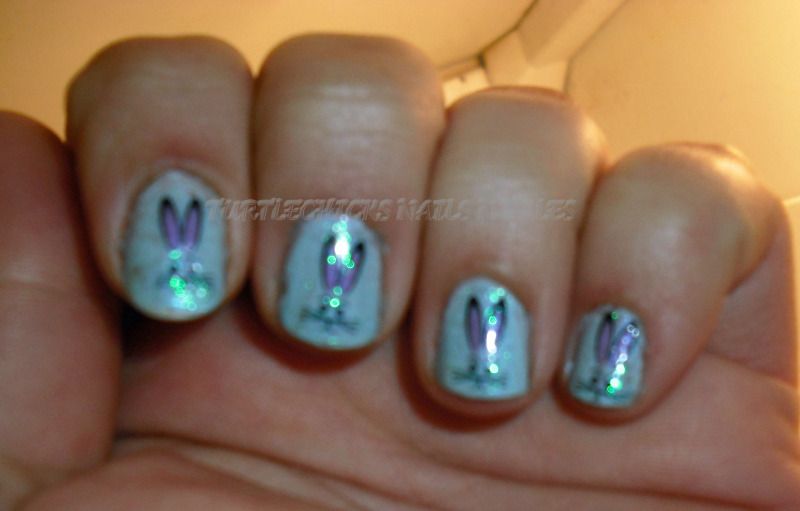 This one is purposely out of focus to show you the flakies sparkle. Ok, it wasn't purposely taken out of focus but it was purposely added to this post because it was out of focus. :)
I used two coats of Eyeko sky blue and one coat of Maisie. The Eyeko polish was rather streaky and uneven but the fact that I was rushing didn't help the situation. I am going to have to do another mani properly to comment on the formula and coverage.
I used the cute bunny decals from
LuckyStarStyle
for the design. I loved the bunny faces. I wish I had more time to place them more evenly but not bad for doing them in the car. No, I wasn't driving :) I was riding in the backseat.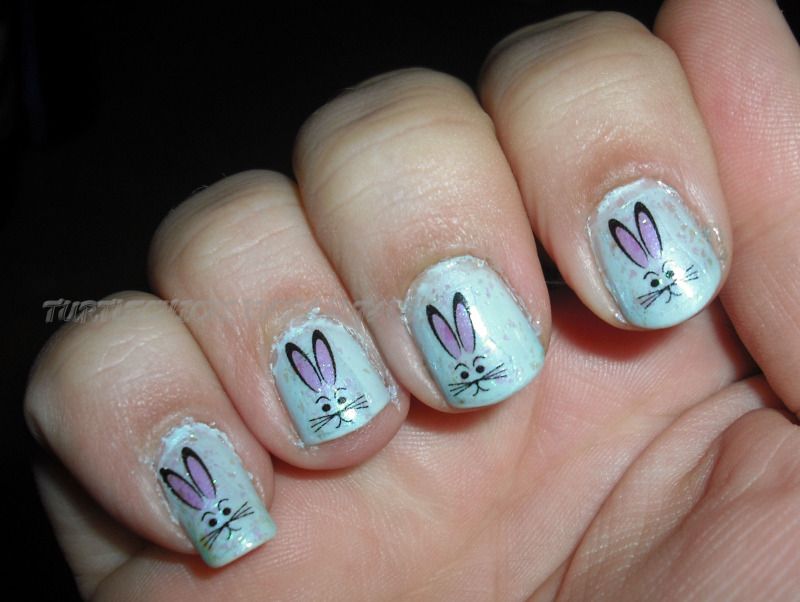 The one thing I did learn the hard way was that you must ALWAYS put a topcoat over the decals. I had no time to do that since my father doesn't enjoy the smell of nail polish in a closed car. I had forgotten and then a couple of them started slipping and sliding and collecting lint. It wasn't cute. They were easy to slide back into place but I almost lost one.
For some reason the bunnies looked a little angry on this hand. Perhaps they were hungry for some topcoat. I wish I had been feeling better and had more time to do another mani with these decals. They are pretty cute.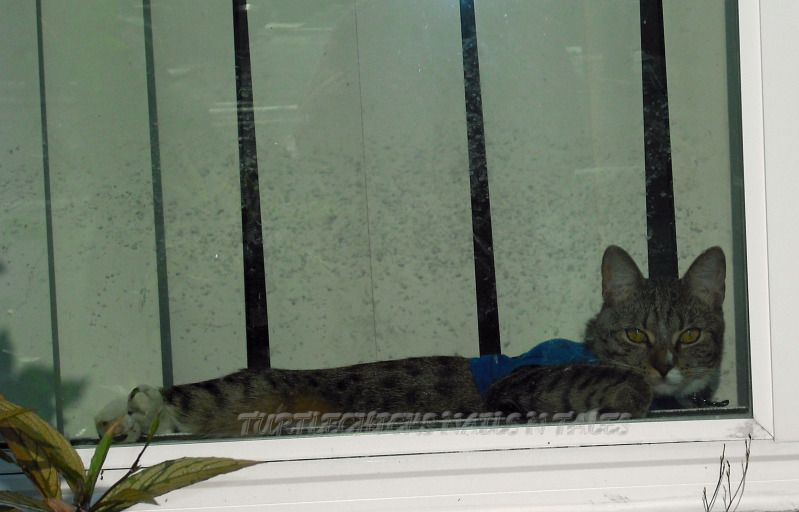 Also pretty cute is my lazy little Bruce Kittlee Master Ninja Warrior. He likes to lay in the front window in the morning when I am leaving for the day. He watches the world go by and sleeps in the sun.
That's all for now :)