Hey Everyone! Slowly I am starting to feel better. Thank you ALL for the wonderful well wishes and hugs. I appreciate them all! I have been on and off checking out blogs and monitoring comments and such but just haven't been able to comment lately. I am almost back to 100% and am going to be back to posting regularly starting tomorrow. I can't wait! I have a special review for you today though.
Today I have an awesome polish for you. I was so backed up before starting blue month that this one wasn't able to be posted before April. I have done only blue manis for the month of April and Autism Awareness and Karamo's sister so this one was going to be one of the first manis I did for May. I actually wore this polish when I first received it so I am technically not breaking my blue for April month. :)
The lovely Lauri, aka crowstoes, opened up her shop
CrowsToes Nail Color
today so I wanted to get this posted today in support. Lauri is an amazing frankener who uses commercially available polishes along with cosmetic grade glitters and pigments to bring us amazing new frankens. She is a sweetheart who does amazing work and makes killer polish. It took me all of 3.2 seconds to decide I couldn't live without this polish when she first posted it. I just ordered two more from her shop as soon as it went live so I will be able to show you those soon too.
Today I have for you Murder by#s.
Her labels are so cute and I LOVE her web store. I like how the page vibrates when you change it. I could actually sit there and do that all day.
This polish is insanely gorgeous. My pictures don't do it justice at all. It is really awesome. Since I lack a great way of explaining colors I wanted to use Lauri's description. From the CrowsToes site Murder by #'s is described as A beautiful deep murky charcoal that resembles an oil slick. Turn it one way and it looks deep purple, another way and it looks dark green. Just as a woman can be, murder by numbers nail color is both dark and bright all at the same time. At one glance it looks murky and black, deep green hexes, large and small, meander about in the purple and green base, all the while tickled by the bright gossamer of holographic lace that seems almost to float above it's surface.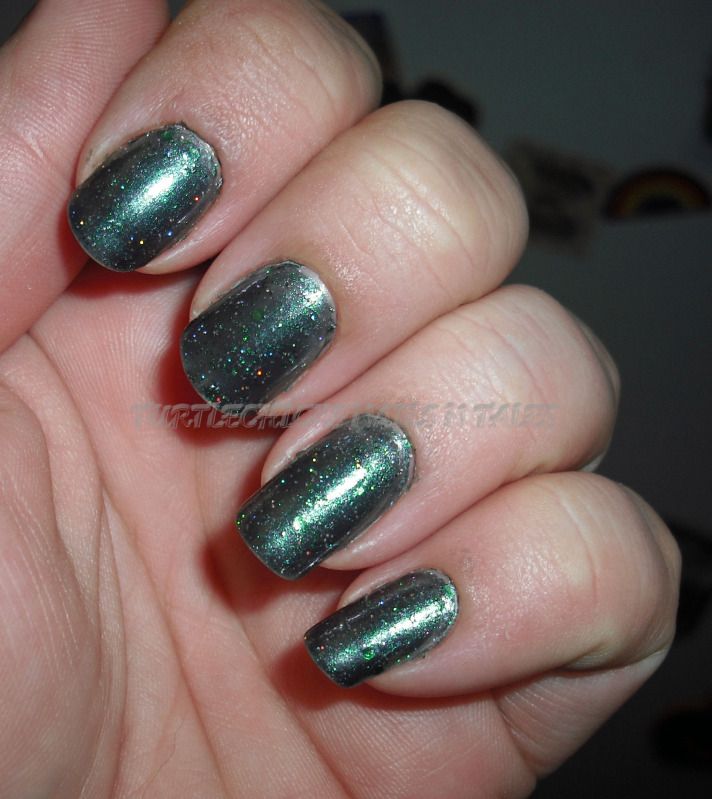 My nails were so long and pretty when I got this polish lol. I used two coats.
All the sparkle and glitter totally freaked the camera out. It is so insanely sparkly.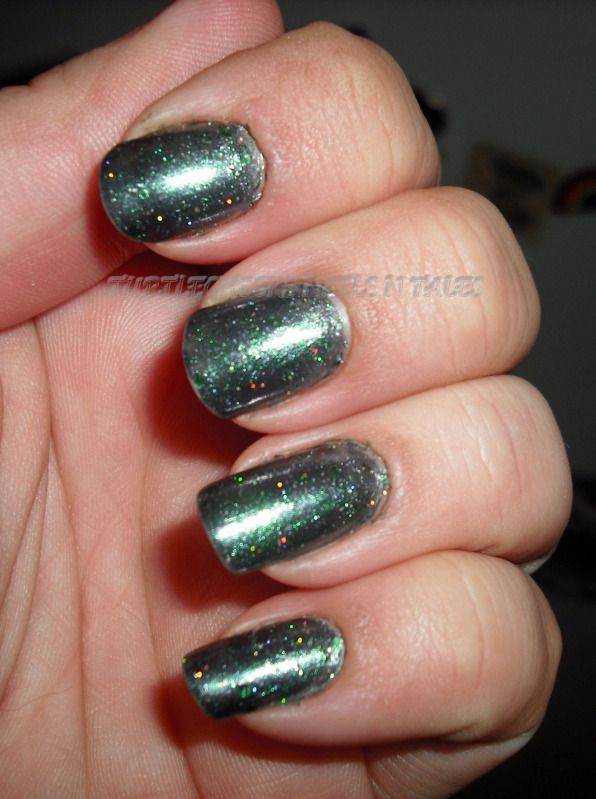 This baby sure does change colors on you depending on lighting and angle.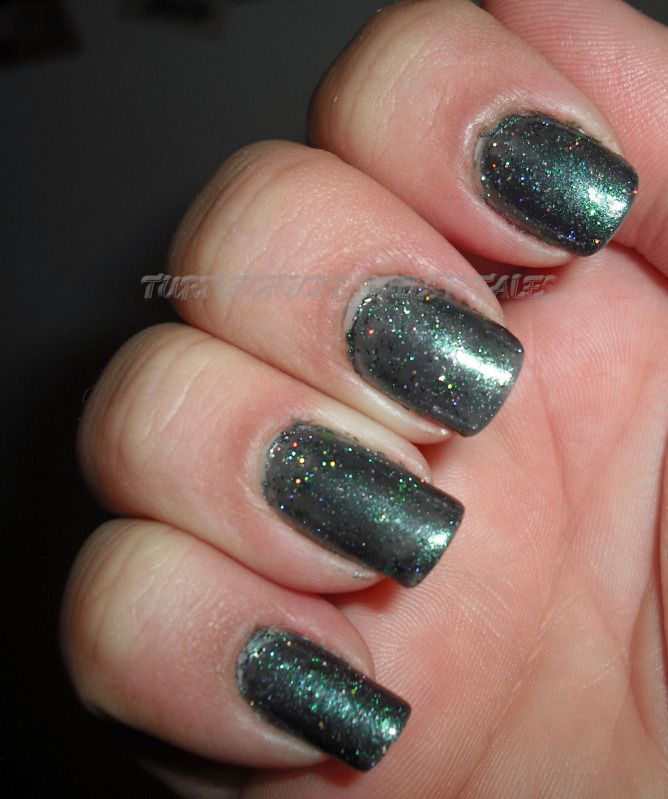 The formula was great. Such an awesome formula and was a dream to apply.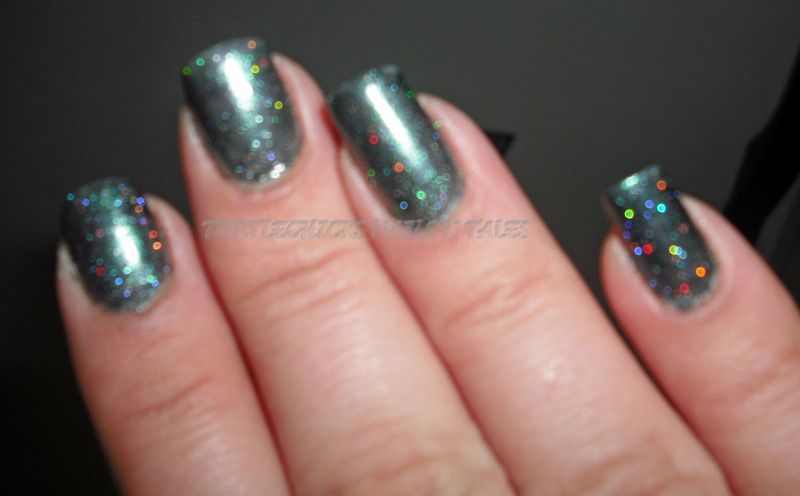 This one is blurry but I wanted you to see all that glitter and sparkle.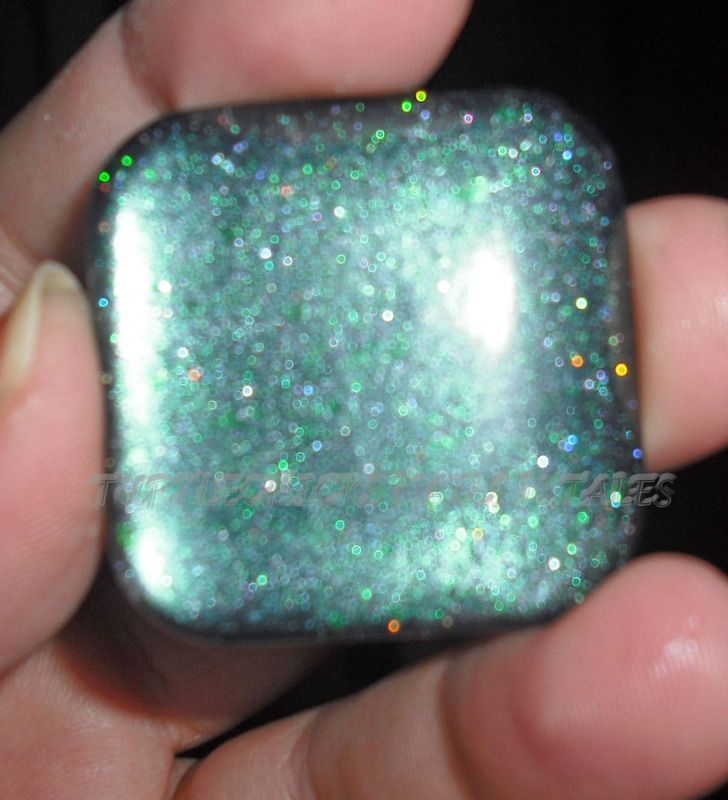 I love this polish oh so much I even made a magnet of it. I pick this up and stare at it way more than I should admit.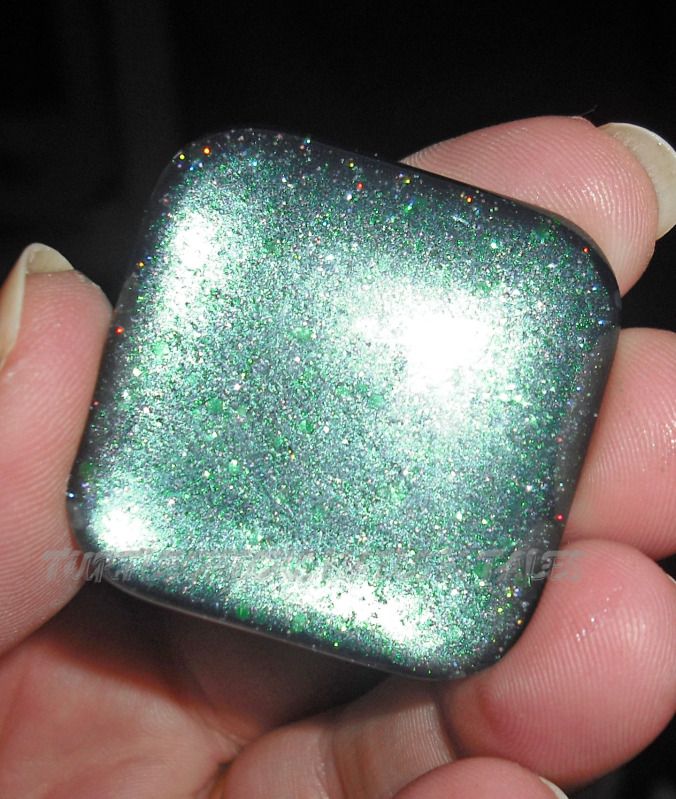 I love the green glitter that you see in this picture.
You can order this one as well as Lauri's three other colors Absolum, Bunny Slope (those two will be mine soon), and Cheshire (which will be mine at a later date lol) for $12.00 from her shop
CrowsToes Nail Color
.
That's all for now :)