Hey Everyone!! I really need to get to sleep earlier. I almost over slept this morning and I am not sure if it was due to my alarm not going off or turning it off in my sleep and not getting up. Luckily T was already up and came in to investigate why I wasn't waiting on him. The good news in that is I was actually able to get enough sleep so I don't feel exhausted today. I think we are going to have to move my bed time up a little bit, at least for awhile. Boo!
In case you hadn't heard Zoya is doing a BOGO sale this week! I love Zoya and I love sales!! Shipping charges do apply but it is a great time to get an awesome deal on those Zoya polishes on your wishlist. I feel like I am being tortured recently with these sales while I am supposed to be on a no buy. I am a bit torn between getting four of the Zoya Pixie Dusts and getting the Holiday Bundle Monster Set. I actually have a gift card so I am not cheating. If I get the Bundle Monster set I will actually have almost $7 left over but if if I get the Zoyas I will have five cents. OR I could just keep the gift card for later. There are just too many decisions that need to be made. I am so indecisive.
Today I have a bargain polish for you. This cute little guy also happens to be a dupe to Deborah Lippmann Mermaid's Dream according to many sources. I do not own Mermaid's Dream because I am pretty cheap and it takes a lot to make me buy a polish that expensive. I do remember seeing gorgeous swatches of Mermaid's Dream when it came out and thought it was a very pretty polish. For those of you, like me, who won't spend that much on one polish this one is a great alternative.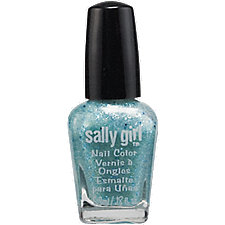 Sally Girl Brainy.
**This image has been copied from the Sally Beauty Supply website.**
I don't have a bottle shot and I wanted to show you the cute little Sally Girl bottles. They are little guys too. The bottles are only 0.18oz
Even though these bottles are so tiny I love them. The Sally Girl polishes I have are all great and the brush is pretty decent for being so small. I often pass up the Sally Girl rack because of the location the store has it in but I do really like these polishes.
I can't remember if I did three or four coats for this mani. I know it is at least three coats. I still have plenty of polish left in the little bottle too. I could probably get at least another two full manis out of it.
Brainy is a gorgeous seafoam green type shade that has a very pretty gold shimmery look to it. It also has larger blue glitter and smaller teal glitter rounding it out. I really loved this polish after I put it on.
I don't remember being as gaga for the Deborah Lippmann polish but it could have been the price turning me off to it. Usually I don't look too hard at higher end polishes because I won't be spending the money on them. Put them in a bottle and charge a buck and I am all over it.
A nice close up look at Brainy.
I really want to do some mermaid nail art on this polish. It is so pretty and sea like.
Well I guess I better get back to work now.

That's all for now :)