Hey Everyone!!! Today I have some stamping I did over my Essie Limelight mani. If you can believe this df told me this was his favorite mani I have ever done. Jaw drop bug eyes. I was floored because this was a pretty simple mani and usually he is all critical about neons. Such a strange boy.
I ordered the Cheeky XL plate A from Amazon not long ago. It shipped fairly fast and arrived in an overly roomy box but it was packed well. Unfortunately my plate had some defects on a couple of the images. There were visible defects where you could see that the image was not completely etched. Amazon was cool about me returning it and sending me a return label but I actually had to reorder and pay for a new plate to get that one shipped out. It bugs me greatly when companies can not exchange an item for me without me having to shell out the price of the item twice before getting my refund. They did offer me free next day shipping on my item so I could get the "replacement" item quickly however it took two days to get it. They did refund me for the first plate and I did get my second plate but I was not thrilled with the whole situation.
I used the wavy pattern for the stamping on this mani and a black striping polish.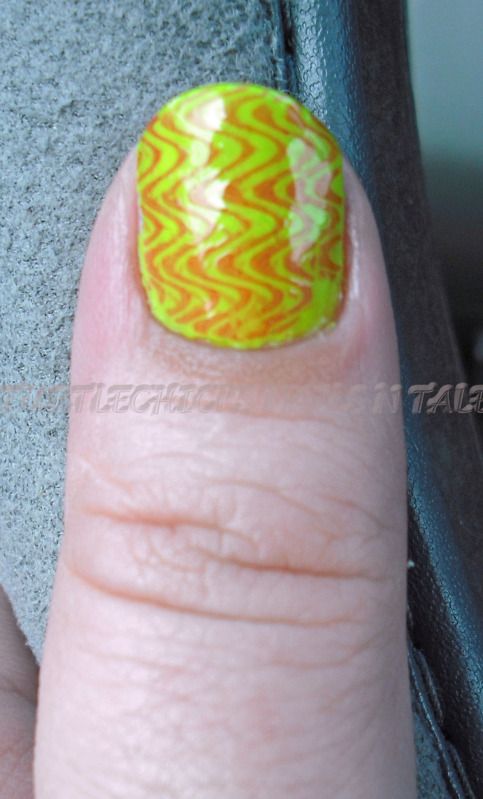 I know what you are thinking, that is NOT black! No, it is not. I had a neon coral striping polish that I intended to do the stamping with to give it that extra neon vibe but it came out like this. I didn't like it. At all. I actually left that one thumb with the coral color and did the rest with black. Df made fun of me for that.
There is a wayward glitter that somehow attached itself to my middle finger. I don't know where it came from but it wanted to stay.
The image stamped really well and I was happy with the plate even after all the trouble I went through getting it. There is actually an image that still looks like it is slightly defective but I am not going through the hassle of another return. I haven't tried that image yet.
I was a little rusty in the stamping department so this isn't perfect and then my topcoat smeared the design a bit. I always have issues with my topcoat and smearing my stamping designs.
I love this pattern and think it looks really cool with the neon.
As a child I had a huge obsession with neon everything and find that I am all grabby hands when I see neon things even now. I loved looking at this mani.
I kinda want to go put a neon again after looking at these pictures.
That's all for now :)