Hey Everyone!! I am super excited right now. When you are from the US or China medals in the Olympics seem to just keep adding up and though it is exciting it is easy to forget that not all countries have the medal count that we do. One of the Irish girls on one of the forums I am on just posted about Irish Lightweight Boxer Katie Taylor who won gold for Ireland. GO KATIE TAYLOR AND IRELAND!!! She was so excited and proud of Ireland's first gold medal of this Olympics. I remember when watching men's gymnastics last week they showed one lone Irish guy competing on the floor exercise. I think it was his only event and he didn't do well enough to advance and I was so upset because I was really hoping he would make it through. I really have no point other than it is so amazing for these athletes to make it to the Olympics and they represent their countries and people so proudly. When we watched the parade of countries at the opening ceremony there were so many countries with small delegations and I always hope that they medal in something. Now that I have rambled on and on I should just show you the nails.
I used the same flag tips and painted gold, silver and bronze medals on them.
I was so excited that Misty May-Treanor and Kerri Walsh Jennings won gold in Beach Volleyball last night. I have been watching those two for a long time.
I only have four pictures for you today. Sorry, they are kind of repetitive too. I used the new Essie Mirror Metallic Collection for the medals. They were perfect for the medals. I used a dotting tool too. My circles were not quite perfect but they didn't come out too bad.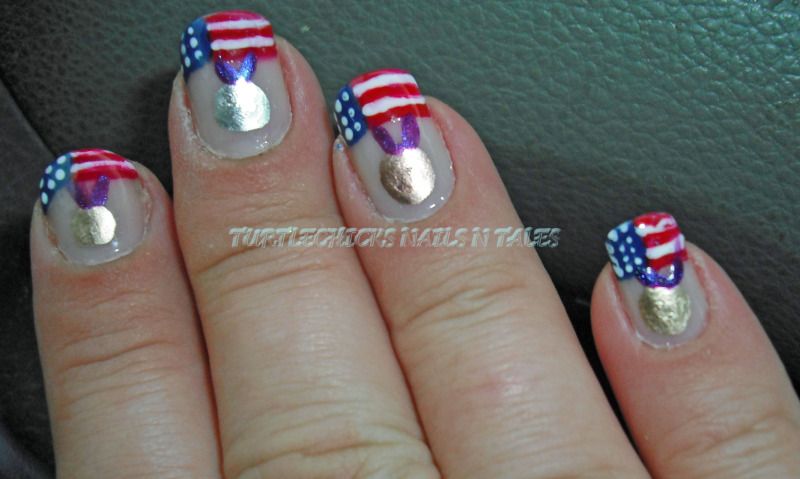 The colors I used were Good as gold, No place like chrome and Penny Talk. I used a random Wet n Wild for the purple ribbon.
I am so loving the Olympics though not so much my attempts at the manis. I have one more Olympic mani for you tomorrow and then I am done with them for the next two years. I am going to have to try and do something different for the next Olympics that is more themed toward the events. I should probably start thinking now lol.
That's all for now :)