Hey Everyone! Yesterday was my ONE YEAR BLOGIVERSARY!!! I was sooooo excited to do a post for you all yesterday and then my son struck. He had a report due today that was not finished and about as good as something Bruce wrote. We spent the ENTIRE night working on this report. It was a five paragraph report. Obviously he doesn't get his writing from me because I am incredibly long winded. As you all know :) SO I am going to do a little Blogiversary celebration tonight.
CAKE FOR ALL!!! lol I wish I had some cake. Though I can actually have cake on my diet, mmm, cake. I actually had a tiny piece of fudge tonight so we will pretend it was to celebrate the blogiversary. I want to thank YOU ALL for reading my little blog and coming back day after day to hear my ramblings and see my sometimes decent pictures. I know you all really come for Bruce Kittlee Master Ninja Warrior though lol.
I went back to my first post and grabbed a picture from way back then. lol Cause it was soooo long ago lol.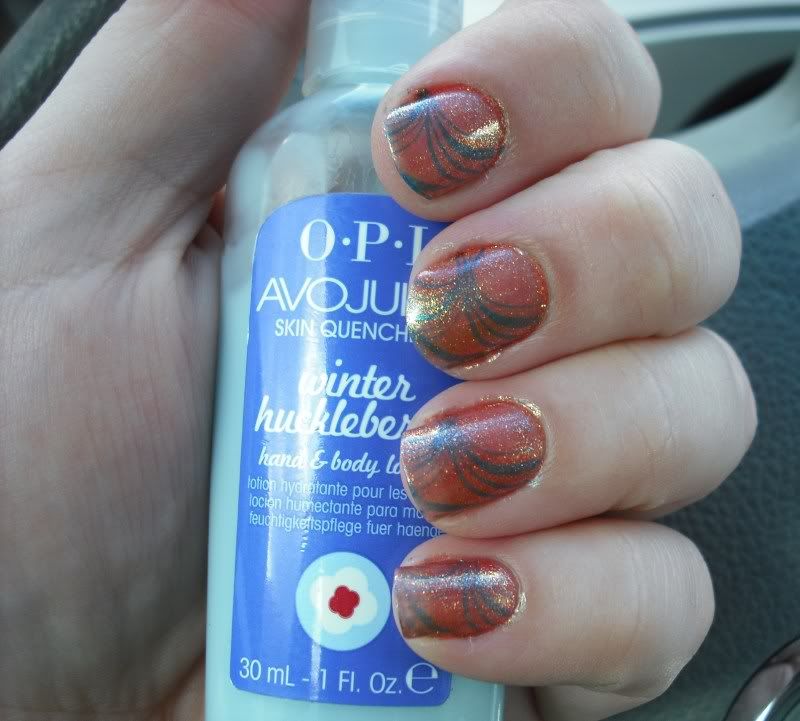 Well, I would like to think the photos have at least gotten a little better and that perhaps my application or cleanup has improved a bit. lol
I think my nails have gotten a little better. My cuticles though, geesh, they need some love. I have loved blogging for this past year and I am really excited for the upcoming year and all the ideas that I have in store. Thank you all for checking out my little place on the web :)
NOW I have another A-England polish for you. This one is from The Mythicals collection and is a gorgeous creme.
A-England Galahad is a really pretty blue. I could NOT get the color right in the photos though. It is vibrant and very pretty but dustier than shown.
I think the index finger and my pinkie finger are very close to the actual color in the picture above.
It is a gorgeous creme and I LOVE it. I want to know how close it is to OPI Fly because it looks similar from what I remember.
I used two coats. The formula was a little thick and I think it needs thinner. It wasn't as easy to work with as the others I have used but it wasn't awful either. Definitely needs thinner.
This picture is closest to being accurate. My poor tub of Lush Lemony Flutter has been through a lot over the past year. The guy that smiled at me from the bottom of the jar is pretty much gone now.
This polish was so shiny and cremey and really really nice. I wanted to eat it. It reminded me of a shiny yummy jelly bean or something. I know it isn't a jelly but it really made me think of candy. It could also be the lack of sugar.
I have one more A-England to show you tomorrow. I am a day behind now that we had the awful night of project hell lol. I must run off and file down my thumb nail now. I broke it trying to climb into the recycle bin and retrieve my Advil Congestion pills my mother threw in there. She thought the box was empty and left on the counter for recycling. Um, perhaps looking inside would have been a nice option. The recycle bin is quite tall and I am quite not so even tilted toward me I could not reach in far enough to get it. I had to call for someone with longer arms. In the end they were retrieved but somehow part of my thumbnail was left behind.
That's all for now :)