To blog or not to blog has been the question I have been wrestling with for awhile now. Obviously to blog is the way that match went. I am excited to finally make an official place to store all my nail polish talk and pictures. Truth be told I am thinking my boyfriend is just as excited because he thinks this will end the polish madness he constantly hears about. Unfortunately for him and my son who both tire of the endless polish babble I doubt that is the case.
I have always loved nail polish and can remember being very young and having little Tinkerbell Nail Polish. I never grew out of it though I have had a love/hate relationship with my nails my entire life. I love them and they love to hate me. When I was young I was quite a biter and my nails were not in good shape. I finally gave up on biting but my nails would not grow. I tried everything including fresh garlic in clear nail polish that left me prepared for any vampire strikes I might encounter but alone because I always reeked of garlic. The friend who suggested that idea to me was not very excited when I actually tried it. My nails were not impressed and maintained their growth strike.
I have pretty much followed the same cycle with my nails until recently. I would do everything I could think of to stimulate nail growth and get excited when they started to grow alittle. I would paint them and buy polish after polish until very shortly after they would break. After trying and trying I would get upset and give up. I attempted those glue on nails for awhile because it offered me nails and a great canvas for nail art which I loved. Unfortunately for my nails I also had no patience and ripped those babies and several layers of nail off when it was time to change them. I have twice accrued glorious, wonderful collections only to get mad at my nails and give up. I always ended up purging my entire collection to random people and kicking myself in the rear later when I hopped back on the polish bandwagon. I am still kicking because I KNOW I had some good stuff back then.
These days my collection is taking on rabbit form and multiplying like a Gremlin in the ocean. I still have problems with my weak, peeling, non cooperative nails but I no longer care. They will be polished no matter what the length. I am also a peeler. I can't help it, if the polish chips I have the overwhelming desire to peel the polish off. It is not good for my nails and I know this but I can not help but do it. I am hoping to use this blog to help discourage me from that bad nail behavior.
Ok, enough of my rambling! I have tons of polish that I will be posting about and I love to Konad and do other nail art so that will be posted here too. I want to keep a record of the colors I try and the things that work and do not work and this is the place. I won't buy every new collection and probably won't purchase the whole collections but I will get the things that appeal to me.
I have so many exciting ideas to post about. Coming up will be my first real franken that will either be really pretty or really really really awful. I am hoping for the pretty. I will also have pictures that actually go along with the post but since this was one of those I am jumping in blindfolded and hoping there are no rocks below moments I didn't come prepared. Luckily I still have some pics I can share.
One of my favorite polishes China Glaze Atlantis in a gradient over Barielle Coalest Day of the year.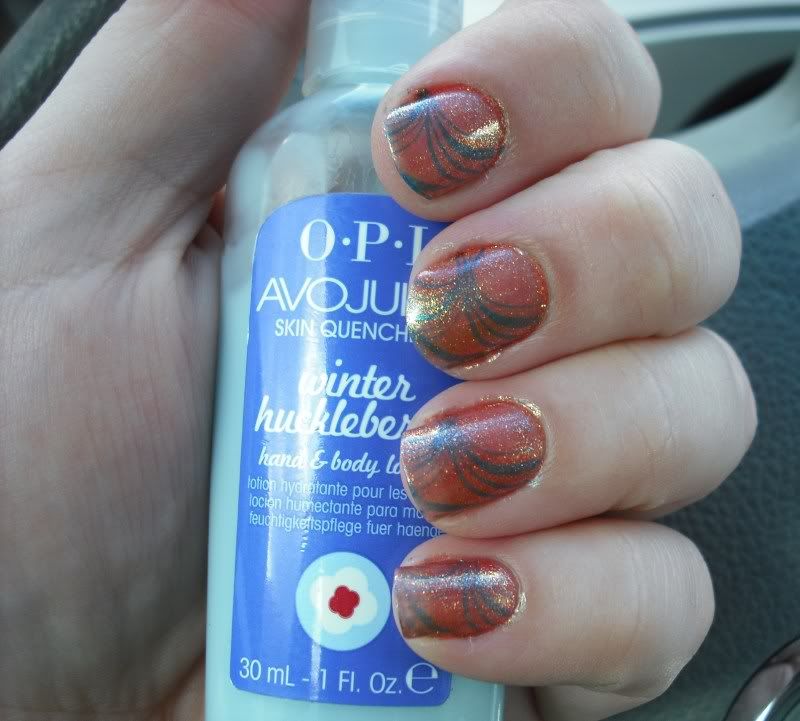 Wet N Wild's new Fast Dry polish in 9.0.2.1.0range with Piggy Polish Shake your Blue-ty Konaded over it.
Thats all for now :)