Hey Everyone!!! TGIF!!! I had a pretty good day but I am tired today. We had some tremendous thunder in the middle of the night and even with the Hurricane proof (I am not sure if that is what they are called but they are supposed to stand up to a Hurricane) windows the thunder still woke me up. Once I am woken up I pretty much take forever to fall back to sleep. Now I am just trying to figure out what my next blue mani should be.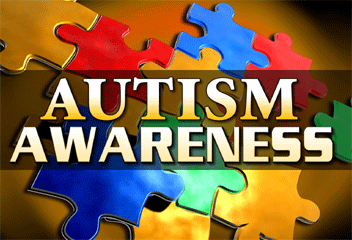 Today's mani used Wet N Wild Blue Wants to Be a Millionaire, China Glaze Sunday Funday and Man Hunt.
I used Bundle Monster plate BM-321 for stamping. I used that heart design on the left that has the puzzle pieces in it. Perfect image for Autism Awareness.
I started with a base of China Glaze Sunday Funday from the 2013 Spring Avant Garden Collection. Sunday Funday is a great bright, FUN, blue creme. I was greeted with an awesome Easter package from my friend Jess when I got home yesterday and this pretty little polish was in there. The formula was great and I love the color.
I used China Glaze Man Hunt to stamp the heart image. I wish you could see the image easier but it is not really super clear. If you look closely you can see the pieces but it isn't really defined well. I love the image regardless but I do wish it was more defined.
I didn't help matters when I took WnW Blue Wants to be a Millionaire and filled in the spots and outline of the heart where Sunday Funday shows through. I thought it would give it some sparkle BUT I think it made the image a little harder to see. I also put some Blue Wants to be a Millionaire on the tips.
Unfortunately for picture taking blues are not the easiest to capture accurately and today was a gloomy, rainy very cloudy day. I love those type of days but it didn't do much to help my photos.
That's all for now :)